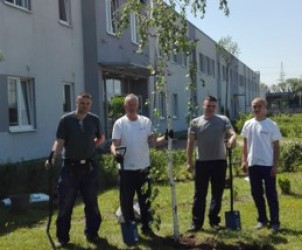 JULY 2018: TYCHY PLANT - EVEN MORE ENVIROMENT FRIENDLY
---
9 july 2018
On 6 June 2018, SANHUA AWECO in Poland has taken part in tree planting activity which has been initiated by Grzegorz GONET (GM Poland) and Tychy plant team.
Grateful for another sunny day ahead of us, our employees grabbed the spades, seedlings and started digging holes for them. As a result, after a couple hours of work, 12 trees were planted in front of the company building.
We are absolutely aware that our small project will not change harmful changes in the environment. It is known that everyday approximately 41 million trees are cut down. It is far more faster than people around the world are able to replant them.
As a SANHUA company we would like to demonstrate our environmental responsibility which is in line with our Policy and Corporate Social Responsibility. We remember that one of the symbols of our company is SANHUA Tree.
Through our small initiative we would like to show we are committed to being green and giving back. Carbon reduction, combating climate change or producing oxygen thanks to trees are significant values for our community. The planted trees not only can maximize our positive impact on the environment but also provide nicer and greener setting.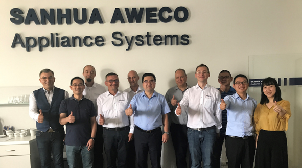 JUNE 2018: ANDREW WENG IN TYCHY PLANT
---
29 june 2018
Between 21-22 June 2018, Andrew WENG accompanied by Ally LU and Xueyuan SHI has visited SANHUA AWECO plant in Tychy, Poland.
The main reason for the visit were: the mid year HR review, LEAN review and discussion concerning next investments of SANHUA in Europe and particular in Tychy region.
During the visit, Andrew WENG has underlined the significant improvements, noticed in the plant. Through effective delegation of authority and solid laysers of lean activities, the team has achieved close to 1M€ savings in the 1st half of the year. The positive involvement of team leaders and professional approach have been appreciated.
Talent identification through professional approach and talent development through actual lean practices have been perceived as key and will lay good foundation for future business development and success.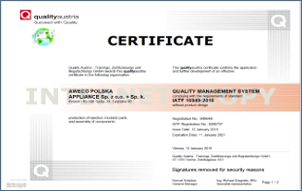 JANUARY 2018: SANHUA AWECO TYCHY - IATF and ISO CERTIFICATION
---
29 january 2018
SANHUA AWECO Tychy plant started 2018 with a great success of obtaining the certification in new editions of 3 international standards :

IATF16949:2016
ISO 9001:2015
ISO 14001:2015.

In particular, we are proud to get the IATF certifiaction, which proofs our innovative ability, premium quality and the highest standards in our automotive sector.

Thanks to high involvement of all SANHUA AWECO group companies and dedication of Tychy plant team - we finished the certification process on time, without non-compliance. This challenging process showed that as ONE TEAM, we are capable to pass even the hardest exams. We are proud to provide to our customers our new certificates and quality of processes and products. We have ambition to grow in the automotive industry and we just completed the first, most important milestone.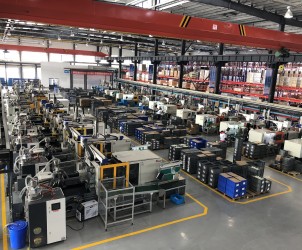 DECEMBER 2017: SANHUA AWECO CHINA NEW BUILDING RELOCATE
---
18 december 2017
During Dec. 6 to Dec.10, the whole company is in the state of relocation to the second building in Wuhu.
Throughout the moving, we can fully aware the spirit of solidarity among our colleagues. Even it is so hard to move all the furnitures, they never make any complaints, just keep helping others, and always with smile on their faces.
Now, we are working in the new building. It is much bigger and brighter than before, with a great working environment. Just like our growing company. Hope we work hand in hand, to create a better tomorrow.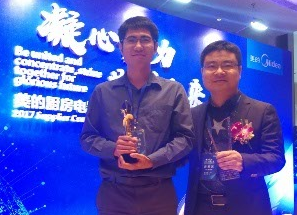 NOVEMBER 2017: SANHUA AWECO CHINA IS GRANTED '2017 EXCELLENT SUPPLIER & OUTSTANDING R&D AWARD' BY MIDEA HOME APPLIANCE
---
20 november 2017
With high quality production, prompt delivery, great communication and cooperation with customer Sanhua Aweco China is granted with excellent supplier by Midea.
Sanhua Aweco also earned the outstanding R&D award by Midea. As we achieve strategic product development with Midea on the cole component of the dishwasher and drawer type machine, such as Alpha pump, Nova dispenser and water softener.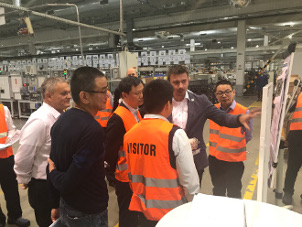 NOVEMBER 2017: Visit of YABO ZHANG President of Sanhua Holding in Europe
---
17 november 2017
Beginning of November 2017 was very important for SANHUA employees in Europe. The President of the SANHUA Holding, Yabo ZHANG was visiting Europe. Main points of the visit were: meeting SANHUA Int. Europe (SANHUA cooling systems) team in Madrid, Spain and meeting SANHUA AWECO team in Tychy, Poland.

It was very fruitful and inspring visit. It was the visit concerning our present status, but main focus was to the future development plans of SANHUA in Europe. Meeting with the key customers took place as well.

Mr. ZHANG was accompanied by Chuliang SHI (Managing Director, SANHUA Automotive) and Min YAN (General Manager, SANHUA Automotive Europe).

Main conclusions of the visits are:
• First - to stabilize actual business presence of SANHUA in Europe,
• Second - to consolidate SANHUA business in Europe, look for synergies,
• Third - to invest and increase European presence of SANHUA as global air conditioning, white goods and automotive systems sector leader.