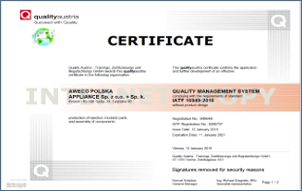 JANUARY 2018: SANHUA AWECO TYCHY - IATF and ISO Certification
---
29 january 2018
SANHUA AWECO Tychy plant started 2018 with a great success of obtaining the certification in new editions of 3 international standards :

IATF16949:2016
ISO 9001:2015
ISO 14001:2015.

In particular, we are proud to get the IATF certifiaction, which proofs our innovative ability, premium quality and the highest standards in our automotive sector.

Thanks to high involvement of all SANHUA AWECO group companies and dedication of Tychy plant team - we finished the certification process on time, without non-compliance. This challenging process showed that as ONE TEAM, we are capable to pass even the hardest exams. We are proud to provide to our customers our new certificates and quality of processes and products. We have ambition to grow in the automotive industry and we just completed the first, most important milestone.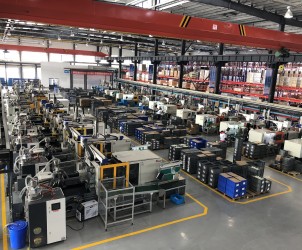 DECEMBER 2017: SANHUA AWECO CHINA NEW BUILDING RELOCATE
---
18 december 2017
During Dec. 6 to Dec.10, the whole company is in the state of relocation to the second building in Wuhu.
Throughout the moving, we can fully aware the spirit of solidarity among our colleagues. Even it is so hard to move all the furnitures, they never make any complaints, just keep helping others, and always with smile on their faces.
Now, we are working in the new building. It is much bigger and brighter than before, with a great working environment. Just like our growing company. Hope we work hand in hand, to create a better tomorrow.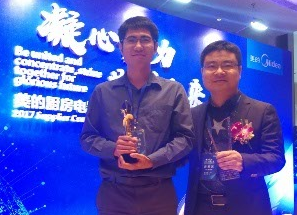 NOVEMBER 2017: SANHUA AWECO CHINA IS GRANTED '2017 EXCELLENT SUPPLIER & OUTSTANDING R&D AWARD' BY MIDEA HOME APPLIANCE
---
20 november 2017
With high quality production, prompt delivery, great communication and cooperation with customer Sanhua Aweco China is granted with excellent supplier by Midea.
Sanhua Aweco also earned the outstanding R&D award by Midea. As we achieve strategic product development with Midea on the cole component of the dishwasher and drawer type machine, such as Alpha pump, Nova dispenser and water softener.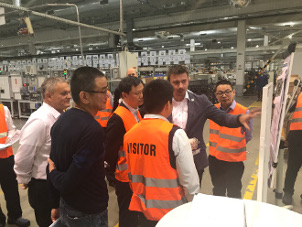 NOVEMBER 2017: Visit of YABO ZHANG President of Sanhua Holding in Europe
---
17 november 2017
Beginning of November 2017 was very important for SANHUA employees in Europe. The President of the SANHUA Holding, Yabo ZHANG was visiting Europe. Main points of the visit were: meeting SANHUA Int. Europe (SANHUA cooling systems) team in Madrid, Spain and meeting SANHUA AWECO team in Tychy, Poland.

It was very fruitful and inspring visit. It was the visit concerning our present status, but main focus was to the future development plans of SANHUA in Europe. Meeting with the key customers took place as well.

Mr. ZHANG was accompanied by Chuliang SHI (Managing Director, SANHUA Automotive) and Min YAN (General Manager, SANHUA Automotive Europe).

Main conclusions of the visits are:
• First - to stabilize actual business presence of SANHUA in Europe,
• Second - to consolidate SANHUA business in Europe, look for synergies,
• Third - to invest and increase European presence of SANHUA as global air conditioning, white goods and automotive systems sector leader.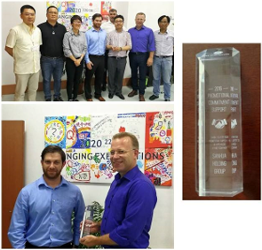 GE Award for SANHUA AWECO
---
27 june 2017
On 23 May 2017, on behalf of GE, Igor Estraykh (Global Commodity Leader from GE) and Jue Zeng (GE Asia Sourcing team) visited and awarded SANHUA AWECO "2016 PROMOTIONAL COMMITMENT SUPPORT".

They expressed gratitude for Aweco's support and contributions to dishwasher business. They visited Hangzhou R&D Center and Wuhu plant. GE customers were very impressed with our manufacturing and quality control systems.

It is the next step of very good cooperation with GE being maintained by Udo Siebert (CSO), Bernhard Schmid (KAM). Besides the dishwasher Omega business, it is expected to have other business opportunities with GE in the future.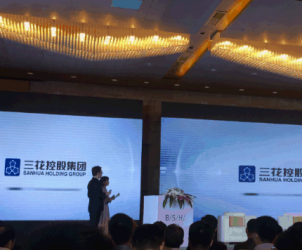 APRIL 2017: BSH SUPPLIER CONVENTION IN NANJING ON APRIL 20, 2017
---
1 may 2017
On April 20th 2017 for the first time B/S/H China invited Sanhua Aweco (Wuhu) to their supplier day held in Nanjing.
CEO of Sanhua Holding Group, Mr. Zhang Yabo, was invited to join the podium discussion. With him have been Mr. Wang Dayong (VP of Sanhua Holding Group), Mr. Huang Xuedong (GM of Sanhua sales) and Mr. Zhang Caiquan (KAM).
Mr. Zhang Yabo used the opportunity to introduce the Sanhua Group and to share his vision of future cooperation.
Sanhua Aweco was represented by Messrs Udo Siebert (CSO), Florian Schultz-Wild (GM China) and Kevin Xiao (DGM China and KAM Asia).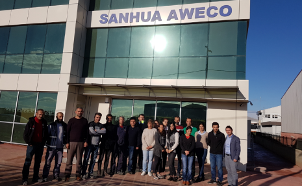 DECEMBER 2016: OPENING TURKEY PLANT
---
2 january 2017
We are pleased to inform that our new Turkey plant in Istanbul, officially established on 23.05.2016, started production on 23.12.2016.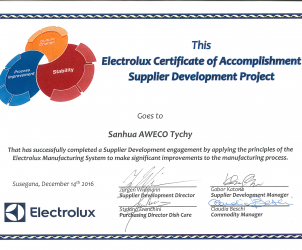 DECEMBER 2016: ELECTROLUX CERTIFICATE OF ACCOMPLISHMENT SUPPLIER DEVELOPMENT PROJECT
---
2 january 2017
On 21/12/2016 in Tychy officially finished the two years common project leaded in cooperation of Electrolux and Sanhua Aweco. The project was focused on the production of omega pumps, collaboration and cooperation of both teams, exchange of experience and "best practice" in lean manufacturing, manufacturing systems EMS (Electrolux Manufacturing System) and SAPS (Sanhua Aweco Production System).

During the project, the Sanhua Aweco factory in Tychy has been shown as a benchmark plant for other key supliers, as a plant growing very fast in terms of lean manufacturing and the optimization of manufacturing processes. In addition, during the Suppliers Day in the Electrolux Susegana (Italy), Electrolux and Sanhua Aweco cooperation example was pointed as the most fruitful and successful.

The project team members received the official certificate for Sanhua Aweco Tychy of successful implementation of the project, which confirms achieving the targets and sustainable, high level of key indicators important for cooperation.